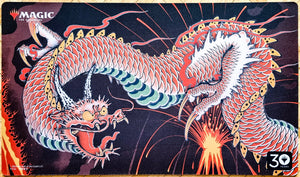 This item is a Magic the Gathering playmat featuring the Shivan Dragon artwork by Kota Nakatsubo originally created for the 30th Anniversary Celebration in Tokyo, Japan.
The 30th Anniversary Celebration Event was held in Miyashita Park, a famous shopping mall in Shibuya, Tokyo, with a rooftop park. The event was held between September 1st and 10th, 2023.
The playmat size is around 35cm x 60cm.