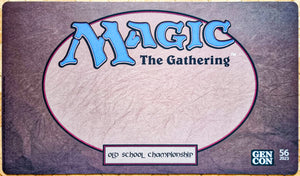 This item is a Magic the Gathering playmat, custom made for the Old School Championship celebrated during the Gen Con 56 in 2023.
Founded in 1968 by Gary Gygax, later a co-creator of Dungeons & Dragons, as the Lake Geneva Wargames Convention, Gen Con first took place in Lake Geneva, Wisconsin, before relocating to Indianapolis, Indiana in 2003. In 2023 it celebrated its 56th anniversary.
The Old School Championship has been held at Gen Con annually since 2017, marking its 7th edition in 2023.

This item is of considerable rarity since it was never sold outside of the event.

The playmat size is around 35cm x 60cm.