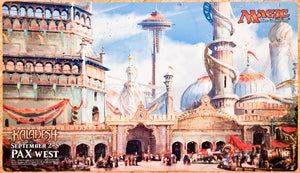 This item is a Magic the Gathering playmat featuring custom artwork of Inventors' Fair by artist Jonas De Ro originally featured in Kaladesh and created for the Pax West Seattle 2016. The artwork was modified to include Seattle's Space Needle.
The playmat wasn't sold outside of the event and is thus very rare.
The playmat size is around 35cm x 60cm.