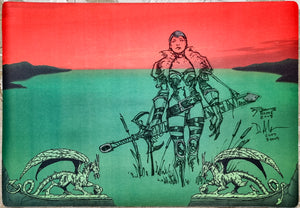 This item is a Dragon Shield Magic the Gathering playmat with custom artwork inspired by the Pro Tour with a Green and Red Zone.
The playmat has been sketched with a Thunderscape Apprentice
 and signed by D. Alexander Gregory & Jeremy Jarvis, making it absolutely unique.
This item is of considerable rarity.
The playmat size is around 40cm x 60cm.