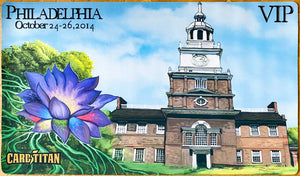 This item is a Magic the Gathering playmat featuring custom artwork for the Eternal Weekend Philadelphia 2014 of the Black Lotus & Philadelphia Independence Hall by Christopher Rush. This playmat was given to the participants of a VIP event.
This MTG playmat was never sold outside of the event and thus is very rare.
The playmat size is around 35cm x 60cm.