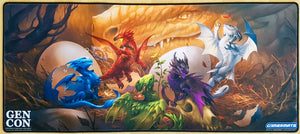 This item is a Magic the Gathering playmat featuring the Baby Dragons artwork by DeviantArt Singaporean artist Sandara, created for Gen Con 2018.
The playmat is embroidered, i.e. it has been stitched with thread on the borders to improve durability and to make it even more visually stunning. It is also made in wide scale.
The playmat size is around 36cm x 80cm.