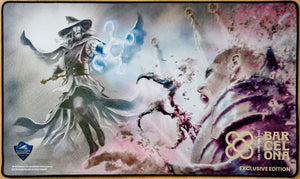 This item is a new addition to our collection. A Magic the Gathering playmat, from the Magic Con Barcelona 2023, featuring gorgeous custom art by the name of The mysterious blue Wizard against Tezzeret by Marcos Raya Delgado.
This playmat was a commission for the store Magic Barcelona and was offered to its customers during the event.
The playmat is embroidered, i.e. it has been stitched with thread on the borders to improve durability and to make it even more visually stunning.

This item is of incredible rarity since it was never sold outside of the event.

The playmat size is around 35cm x 60cm.