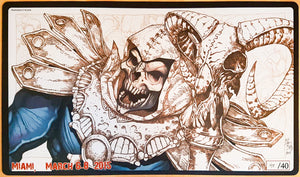 This item is a Magic the Gathering playmat featuring custom artwork for the Grand Prix Miami 2015 of the Masters of the Universe's Skeletor by rk post.
This MTG playmat has been signed by rk post and is part of a limited edition of only 40 playmats (number 40) and thus is very rare.
The playmat size is around 35cm x 60cm.