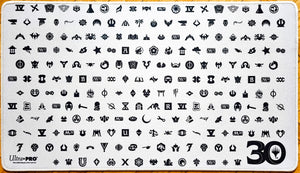 This item is a Magic the Gathering playmat created to commemorate the 30th Anniversary of Magic the Gathering. If features the set symbols of all the Magic the Gathering sets of the first 30 years of the game.
This particular version of the playmat is holofoil, holographic foil. 
The playmat is embroidered, i.e. it has been stitched with thread on the borders to improve durability and to make it even more visually stunning.
The playmat size is around 35cm x 60cm.