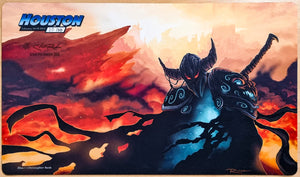 This item is a Magic the Gathering playmat, from the Grand Prix Houston 2016, featuring the Ihsan's Shade artwork by Christopher Rush originally found in Homelands.
This playmat  has Christopher Rush's stamp, and there was a limited edition of only 10 playmats printed, thus it is of extreme rarity.
Pictured is number 10/10 of the collection, but since we may own several copies of this limited edition, the playmat you purchase could have a different collection number.
The playmat size is around 35cm x 60cm.