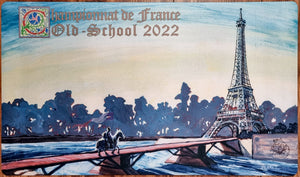 This item is a Magic the Gathering playmat, from the Championnat de France Old-School 2022, featuring custom artwork by Jeff A. Menges portraying a reinterpretation of the Moat art with the Eiffel Tower.
This MTG playmat was not sold outside of the event and is thus very rare.
The playmat size is around 35cm x 60cm.