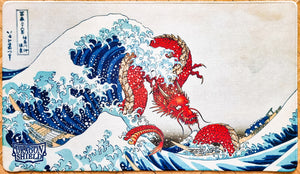 This item is a Magic the Gathering playmat featuring a Dragon Riding The Great Wave off Kanagawa artwork from Katsushika Hokusai originally painted in 1831. The dragon was added by Sabine van Apeldoorn and is part of volume III of the popular Dragons in Art series of Dragon Shield.

The playmat is embroidered, i.e. it has been stitched with thread on the borders to improve durability and to make it even more visually stunning.
The playmat size is around 30cm x 60cm.