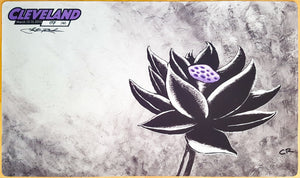 This item is a Magic the Gathering playmat featuring the Black Lotus artwork by Christopher Rush originally featured in Limited Edition Alpha.
The playmat comes from Grand Prix Cleveland 2015 and is part of a Limited Edition of only 60 playmats.
This MTG playmat has been signed by Christopher Rush and is unique.
The playmat size is around 35cm x 60cm.