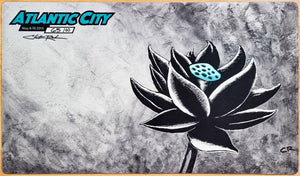 This item is a Magic the Gathering playmat featuring the Black Lotus artwork by Christopher Rush originally featured in Limited Edition Alpha.
The playmat comes from the Grand Prix Atlantic City 2015 and is part of a Limited Edition that initially was supposed to have only 60 playmats, but due to the success of the playmat in the event, was increased to around 70 copies.
It has also been signed by Christopher Rush. Since we may own several copies of this limited edition, the playmat you purchase could have a different collection number.
The playmat size is around 35cm x 60cm.