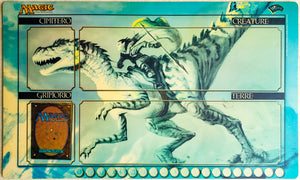 This item is a Magic the Gathering playmat featuring the Allosaurus Rider artwork by Daren Bader originally featured in Coldsnap.
The playmat is also divided in different sections to allow your cards to be played in the right spots, making easier to follow the action.
This item is of considerable rarity.
The playmat size is around 30cm x 50cm.